If you wish to join the CBCBB-BCBHH, all you have to do is download (right click and save the image as...), print the form below, to fill it out and return it to the address indicated, without forgetting to make the bank transfer.
In becomming a member of our club, you will get 4 magazines by year, you could announce your breeding plans, matings and births in the magazine & on the website, and you will get a discount on the show fees.
Your membership card will be sent to you automatically.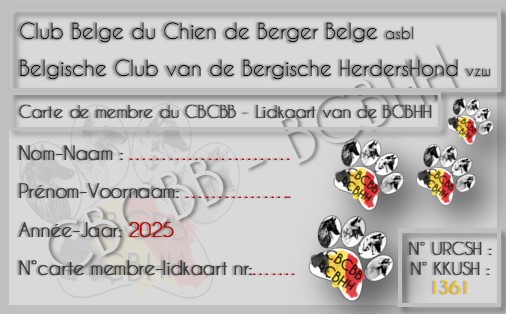 Thank you for your confidence.
Dear members or future members,
Last year, when our breed club started its activities, we offered you an attractive membership fee which we felt was correct to run the club.
Our goal was certainly not to increase it already this year but this was without taking into account the new compulsory license for all Belgian clubs amounting to € 7 per member !
Our membership fee therefore goes from :
35€ to 40€ for Belgian members
45€ to 50€ for foreign members
5€ to 10€ for additional members of the same family
The club pays the additional € 2.

Thank you in advance for placing your trust in us in 2022 as well !
The CBCBB-BCBHH board